Are you ready?
4-2-09
Given that today is not April 1st, this is no April Fools joke. "Bringin Back Suck It" Part 3 is coming!!! We've put together a little teaser trailer containing real audio clips from the third and final installment of the series, which should be up online by the end of the month.
Make sure to catch up on the last 2 episodes (and the Mix Tape) and tell your friends. Also if you have $20 laying around and want to sport the Suck It movement be sure to check out our merchandise page on Zazzle.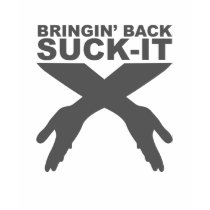 Check back soon for more Suck It madness.
Hugs
P.S. This is kind of a long shot, but we've been trying to get in contact with some of the members from DX to have them check out the series and ask to do a cameo but we haven't had any luck. Any ideas on how to get this to happen? No one out there works in the wrestling business do they?